Great Ocen Road Tours
Sky Vans will take you on the best Great Ocean Road Tour that you will never forget! We present visitors with a chance to embrace the charm of one of Australia's biggest attractions. This Australian national heritage is a popular destination for both the locals and the tourists. The coastline in this part of Australia is not only breathtaking, but also much different and unique from what is found in other parts of the world. The amazing National heritage is a well-preserved attraction worth visiting more than once.
The Great Ocean Road runs from Allansford and Torquay, and is a 243km man made landmark which was actually built by returning soldiers as a dedication to the fallen during World War 1. There is no bigger or more famous war memorial anywhere in the world than the Great Ocean Road. Sky Vans has organised several amazing packages which domestic and international visitors now have a chance to travel within this great heritage while having a memorable experience.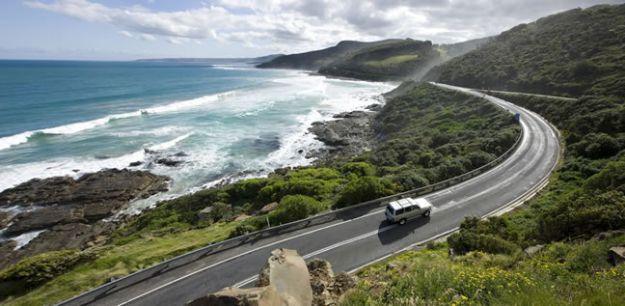 Travel the amazing Australian coastline
Without this amazing national heritage, access to some of Australia's most famous attractions, such as the Twelve Apostles, would be impossible. The road is adjacent to the natural and beautiful Australian coastline, where natural limestone as well as rock formations made of sandstone is noticeable while on tour. The road provides visitors with the chance to see a huge portion of the Southern Ocean as well as the Bass Strait. While sightseeing, visitors get the chance to see amazing rainforests, some of the largest natural beaches and cliffs, which are all important features of the Australia scenery.
The road provides marathoners with the main route to use during the Great Ocean Road Marathon, which has been attracting athletes from all over the world.
In summary, visitors to this national heritage have the chance of seeing the largest war memorial in the world, and one that enriches the already rich Australian history. The road provides access to several of the best attractions in Australia. It provides visitors with easy access to the vast Australian coastline known as the Surf Coastline. None other than the Australian Tourism Development Authority considers it as one of the great scenic roads in the world, and the millions of visitors who tour the road are a confirmation that this indeed is the case. Lovers of adventure sports, such as kayaking, hiking, and scuba diving have plenty to look forward to. So what are you waiting for? Contact Sky Vans today on 0412 619 802 and book the amazing Great Ocean Road Tour!

Why Hire Us?
7, 13 and 24 Seaters Vans